innogy
Délivrer des messages avec plus de puissance pour l'entreprise énergétique Innogy
73%
taux d'achèvement des vidéos
Combining creative innovation and technology to engage your audience
How can you make a message stand out from the countless promotional emails and newsletters sent out every day and prevent it being ignored or sent directly to trash?
This has always been one of the big challenges to retail and utility services in today's overcrowded digital marketplace. The Czech branch of international creative agency Wunderman Thompson turned to video personalization to address this challenge, with the help of Motionlab Platform and the Smart Emailing distribution platform, for energy utility company Innogy - and the results were striking.
The primary goal of the campaign was an upsell to encourage customers to switch their electric accounts to Innogy. To do this required the successful distribution and delivery of the message to Innogy customers. The solution mixed creative innovation and technology to generate an e-mail to each customer to upload a customized version of a video, or a personalized thumbnail with the customer's name and a unique link that would lead to a video "belonging" to each specific customer.
Using the Motionlab Video Personalization Platform, the customer's name was embedded directly into the video several times, which also contained other unique elements such as the customer's annual gas consumption. Another key upsell of each message was to show the specific saving the customer could make if they switched to one of Innogy's combined gas/electricity services.
The video (produced by Creative Embassy) has a friendly, intimate feel and gives the customer the impression the video was made just for them but in reality, 20,000 videos were created.
Impressive results
The campaign used a large A/B test to look at the results, comparing a traditional information newsletter against the personalized video e-mail.
The final results showed:
16x click-through rate

than a traditional newsletter

Reduction of the final cost-per-click by 38%

, including video production costs, compared to the traditional campaign.
Significant

increase in video viewing time

, which climbed to

73%

(the standard non-personalized video average is 5%).
The campaign was sent to a test sample of the database, but with the involvement of all customers, major further cost reductions can be expected.
"Data-based personalization is the foundation of everything we do for clients at Wunderman Thompson. At the heart of it all is the customer and his positive brand experience. Personalized videos are a logical extension of our communication capabilities."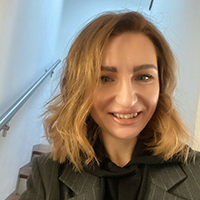 Kateřina Doležalová
strategy & CX director at Wunderman Thompson
caractéristiques personnalisées
Clients name

(text)
Customers Name (voiceover and embedded visual)

Current bill

Product Upsell

Special Offer

(voiceover)
Gender

CTA button