notino
The largest European beauty e-commerce company surprised their customers with a unique gift
Assignment and Goal of the Campaign
One of the biggest European online perfumery companies Notino wanted to address a segment of their top female customers who hadn't purchased any goods for some time. The goal was to motivate this group of customers to make another purchase and improve their loyalty.
Insight & idea
Notino decided to use an e-mail campaign as a direct distribution channel of communication to address their customers.
"We intended to address our target group directly through e-mail communication and we were looking for a solution to increase the impact of such an e-mail message. That is why we decided to motivate our customers by offering them a discount at the end of a personalized video," says Veronika Šklíbová, Head of CRM & E-mailing at Notino.
Brainwar production agency came up with the creative concept of the campaign. In the video a fictional Notino marketing team is trying to find the best present for each viewer. So every viewer becomes the lead character in their video.
"The story is simple and funny. It's a story which shows how important the customer is to our client and how much effort our client puts into rewarding their customers for their loyalty," says David Vojtovič, the director of Brainwar production agency.
Campaign Scheme
Distribution was executed through e-mail communication driven by the Bloomreach platform. Bloomreach (former Exponea) also secured the generation and the storage of data for video personalization. Each email contained a personalized thumbnail with the customer's name which led to a landing page with the Motionlab Player. Motionlab Player automatically plays the video destined to the customer who is watching it. Every video contains a CTA button that activates a unique discount code for each customer. Customers who didn't watch the video during the first several days after receiving it, obtained, thanks to Bloomreach (former Exponea) automation, an SMS reminder which notified the customer about the e-mail message.
Personalized Videos
"We used information we had about customers, such as their name or delivery address. A strong feature was the mention of the customers' purchase history as the personalized video showed products from the customer's previous purchases in a funny and original way. To make the personalization even more natural, the client also chose to use the custom font function which made all the "hand-written" personalized texts written on whiteboard and in the letter look very realistic. Features such as hand-written personalized text or purchase history are exactly the kind of features which make the video personalization more credible," says Jan Sekerka, CEO Motionlab.
Results
"Results were above all expectations. More than 80% of customers who opened the e-mail clicked to get to a landing page with their video. Almost one third of viewers used the discount voucher for a 10% discount. Also, the video completion rate was amazing as it exceeded the border line of 90% of viewers. "Before the launch, we were worried about customers' negative reactions to such an amount of personalization." The results, and dozens of positive reactions that we received, soon convinced us otherwise. Several people even found a non-public e-mail address of the Notino director to leave positive feedback and to thank him for the campaign. This never happened before," says Veronika Šklíbová about the campaign results.
About the Companies
Notino is a leader in beauty e-commerce. It's a significant online seller of perfumes and cosmetics. It is present on 24 European markets and offers more than 55 thousand products from 150 international and local brands. Its goal is to make beauty more accessible.
Brainwar is an advertising agency established in 2015 which shoots videos for their clients all over the world. It is also among the first video production agencies that started to focus on video personalization.
Motionlab is a cloud-based platform producing personalized video experiences. The platform allows agencies to create a unique personalized video for every one of hundreds of thousands of customers. Motionlab has won several marketing and startup awards for its innovative technology.
Bloomreach (former Exponea) is a tool which allows digital marketing automation and personalized communication through all channels. It is a Customer Data and Experience Platform (CDXP) which collects, analyzes and activates customers' data in real time while using machine learning and other algorithms of artificial intelligence.
"Motionlab Platform gave us the freedom to create without any limitations. The campaign we produced for Notino is proof that video personalization helps brands to engage with customers and for us, a creative video production company, that opens a lot of new possibilities for creativity."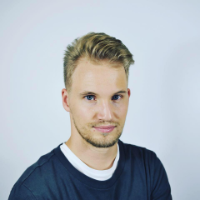 personalized features
Client's name

(text)
Customer's name

Shopping history

Address

CTA button