česká spořitelna
How to keep customers reassured and smiling during a Covid Christmas
+72%
video completion rate
Effective and prosperous services rely heavily on a close personal relationship with their customers. This is especially true with banking. But there's no doubt that the ongoing COVID-19 crisis has been a major challenge to this way of doing business with direct human contact so drastically minimized.
So how is it possible to keep customers satisfied in uncertain times, and still provide a personal service that retains engagement and reminds them that the bank is still there for them?
This was the question that Česká spořitelna, one of the largest banks in the Czech Republic, asked itself for their Christmas 2020 campaign and turned to video personalization with Motionlab Platform to create an answer.
The Christmas period was especially hard for many this year with travel reduced and families kept apart so it was important to create a message that captured the right tone of reassurance and festive spirit.
VMLY&R agency came up with a beautifully crafted script that managed to do this by incorporating an animated fairy tale storyline, combined with a personal greeting and message from the company director.
Czech culture is unashamedly obsessed with fairy tales at Christmastime, so using them in the video was a sure way to put a smile on people's faces.
Each customer received a personal video in the form of a playful fairy tale that told the story of how they became a customer, how many interactions they had with the bank during the last year and a reminder of the location of their nearest local branch. The company director spoke about the challenges we had faced together in the past year and the hope of better times ahead.
The creative animated elements of the video were created by GPS Production with post-production by PFX.
Distribution was carried out through e-mail communication and the George internet banking app. Each email contained a personalized thumbnail with the customer's name, encouraging the recipient to click through to a separate landing page. The landing page featured the Motionlab Player that automatically plays the correct video for each one of the thousands of customers.
Plenty of festive cheer in the results
"The story of the video has a really nice Christmas atmosphere. Personalization deepened the experience even more. This is one of the most visually appealing examples of video personalization that has been created with our technology in the last 3 years." Says Motionlab's Creative Director, Radek Pšurný, about the campaign.
Česká spořitelna registered an increase in some key results comparing it to the AB test. The click-through rate of e-mails increased by 37% and average finish view ratio was almost 60%, despite the video being almost a minute and a half long.
"It was also a pilot test for Česká spořitelna to see if it makes sense to use personalized videos for our communication. This was proven and so we are now deploying them on selected products."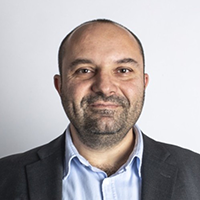 Tomáš Burka
internal agency of Česká spořitelna
personalized features
Customer name

(text)
Year in which they became a customer

Address of the nearest branch

Number of ATM withdrawals per year

Number of card payments per year

Number of contacts with a personal banker per year